BUY WEED ONLINE IN CANADA
Buy Weed Online From Canada's Most Trusted Online Dispensary!
LowPriceBud is the best online dispensary to buy weed online in Canada. We're a team of passionate people with over 15 years of experience in the cannabis industry. We work hard to bring you the best mail order marijuana service in Canada to order cheap weed online. We carry an entire line of premium products like edibles, sativa, indica, hybrid, concentrates, CBD, vapes, mushroom capsules, and essential accessories. 
Our team at LowPriceBud ensures that buying weed online in Canada is safe, legal, and easy. And, as our name suggests, we make sure the products we carry are always affordable. Being one of Canada's trustworthy and leading online marijuana dispensaries, we offer you the most premium quality cannabis products such as edibles, Concentrates, and Flowers at the lowest prices.
Why Buy Weed Online From LOW PRICE BUD?
Low Price Bud mail order marijuana carries all your favourite cannabis products plus a few surprises. We have large variety of high-quality weed strains to help ease all medical conditions, such as pain, anxiety, depression, loss of appetite, migraines, hypertension, insomnia and more. 
Our online cannabis dispensary delivers quality products to your mailbox, all with the click of a button. 
That means you get access to the delicious weed strains, weed edibles, and cannabis concentrates from reputable growers from across the country. 
Low Price Bud curates a collection of premium products while maintaining affordable prices. 
Check out our potent collections of weed for sale, then simply click on what you'd like to order.
SAFELY ORDER WEED IN CANADA FROM THE BEST ONLINE DISPENSARY
Buying weed online from our online weed dispensary ensures you receive premium marijuana delivered to your mailbox anywhere in the Canada. All the products at our online weed store are tested and shipped discreetly very quickly. When you buy weed online at our dispensary, the packaging is tamper-proof and smell-proof.
LowPriceBud is the only top online dispensary in Canada that provides high-quality cheap buds in Canada with fast shipping. You don't have to compromise on quality to get affordable marijuana. When you buy weed online from LowPriceBud today you get premium cannabis strains for the lowest prices.
Checkout our latest blogs here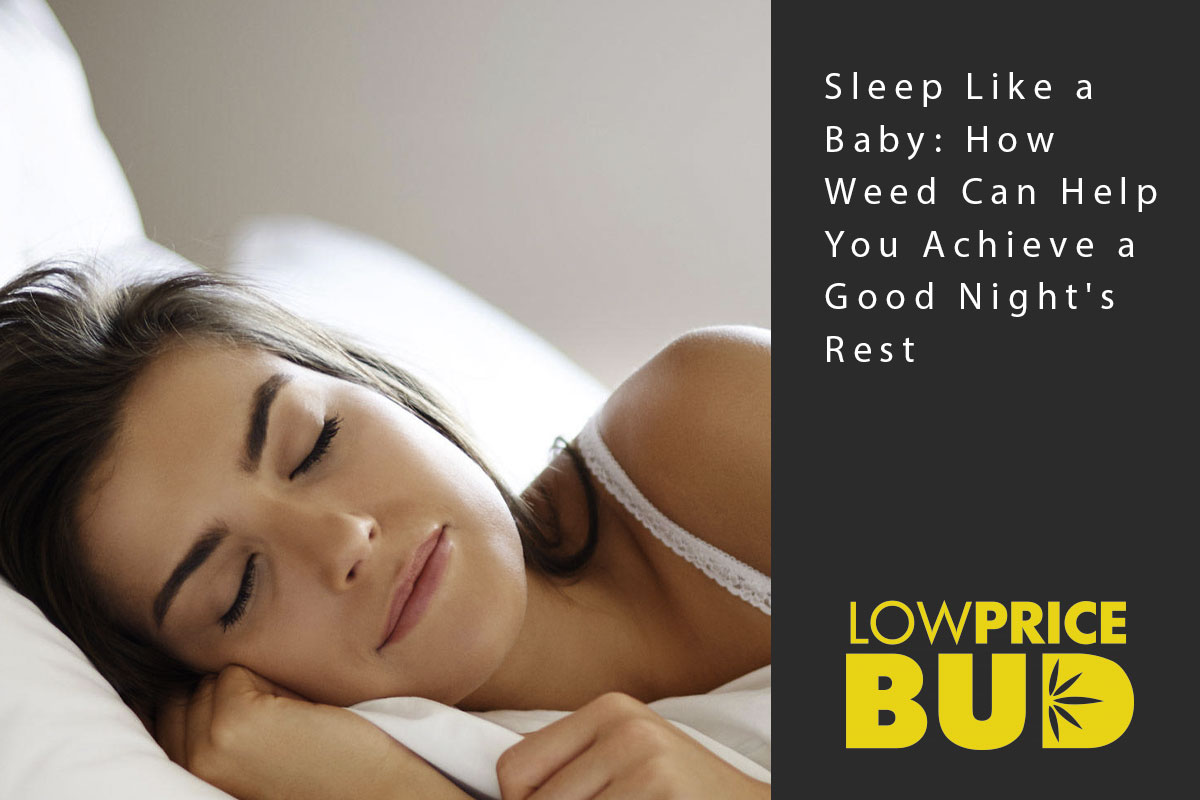 If you find yourself tossing and turning, counting sheep, and struggling to fall asleep, think about weed as a potential new sleep aid. Yes, it's …
Elevate your holiday festivities with the perfect cannabis-infused gifts, adding a touch of unique charm to the season. Whether you're treating a loved one or …
ANOTHER SATISFIED CUSTOMER
Smoking my first joint of this Master Kush I got a super nice high after a few short puffs. The THC is stronger than I am used to so I had to put the joint out and see where the high takes me. I wanted to FLOW with the high that was now taking over my body. I felt total control of every move I made and was with no effort. I took my Jack Russell dog out for a walk and found myself walking a bit faster than usual, I felt like laughing. I felt at ease. Relieved some of the stress I was facing that day. Helped me to focus, gave me energy as well No dry mouth, a bit heavy on the eyelids…..lol I got hungry after smoking the rest of the joint. It ONLY took me 1 hour to smoke a small one…..lol Lots for your money, and worth every bit. Nice Med to Big buds, ALWAYS fresh! This strain and 6 of the other ones I have tried have been super amazing. * NO affiliation with LPB* Just a SUPER Happy Customer 🙂
Smoked my 1st joint of this Mk Ultra in the morning and found the high very nice. It was like returning to the point I left off at the night before. I found the creative side of me kick in. Playing my Electric Guitar was super fun. Classic Rock never sounded better. Playing along to AC/DC sounded like they were ALL here in my living room…..lol The energy it gave me was refreshing. The high did last about 3 hours before I felt any kind of coming down symptoms. A fun strain to smoke. I found the 50% Sativa work for me and not the 50% Indica. Buds are nice big medium size also with lots of crystals.
The taste is very smooth.. fruity and little skunky .. Effect, relaxing, euphoric and sleepy.. better use late evening or night time Awsome if you are looking for a relaxing and chilling time at home.
Exellent ! Tu colle vraiment dans ton sofa ! Parfait pour bien dormir.
Bon au goût et bon buzz mais le corps s habitué rapidemmwnt.
This strain gives off such a long lasting high, I loved it. It helps alot with body aches/pains.
Death Bubba is my go-to. This was very accurately graded AAA strain for sure!
Received GG4 as a sample (thank you!!). It was as described. Grading is 100% accurate. Rating: 5/5
Loved the sweet berry smell! Super Caked with crystals and the burn was slow and steady Rating: 5/5
The taste is just amazing, the color is really clear i'm going to buy some again
Black Diamond(AAA+) is one of the best strain of my life!!! i try lot of weed in the wolrd ( cali,canada,amsterdam) and this one gonna be one of my favorite. do not doubt!!!
Buy one gram of watermelon and of skittlez and they are awesome!!! very clear and so tasty !!! you can smell it. it's just amazing
Very great stuff for a very nice price !!! delivery in 2days. i enjoy my stuff this morning. Thanks
For the price it cannot be beat…. simply amazing for AA grade.
Really purple orange with good light like the photo, soft and soothing effect, beautiful packaging I am very satisfied thank you !!!
The buds of this strain were beautifully trimmed and nicely fluffy, had a nice smell of citrus/pineapple out of the package. While smoking this strain, the pineapple flavor really comes to the forefront. It provides a nice, not-dehabilitating-but-still-heavy high that can keep you going all day.Highly recommend this strain as it is one of the tastiest strains I've tried to this point!
Great way to try different strains for a very competitive price..
I am very Happy with the pineapple Zeus very tasty
10/10 some of the best bud I have ever received from anywhere I recommend you get it while its fresh...
Mango Nuken , sweet taste , mango at the end. The high is there , excellent quality for the price I'm very surprise. Good work LPB!