Promo Code: GOBBLEGOBBLE (Excludes LBs) Save 10% INCLUDING SALE ITEMS
Gobble Gobble, hope everyone is having a great Thanksgiving Day. LowPriceBud is Thanksful and Grateful for all of you. Hope you all get the chance to spend time with your friends, family and loved ones.
Save 10% off you entire order excluding pounds but will work on items even on sale. (Ends Today)
Promo Code: GOBBLEGOBBLE (EXCLUDES POUNDS)
If you could do us a favor which will help us tremendously, please leave us a review on google through the link below. Thank you in advance
New AAA and AAA at $100 and Below as well as Caviar and Resin at $20/Gram
AAA and AAAA $100 Ounces and Below
Join our discord if you'd like more information about our products, giveaways and promotions.
Have a splendid Thanksgiving Day
LowPriceBud Team
---
Cherry Pie is a indica dominant hybrid of Grand Daddy Purple and Durban Poison. Although it is hard to find the authentic version of this particular medical marijuana strain, it definitely will not be hard to believe that this is the best type of strain. In structural composition, it has dense buds with orange hair all over and displays a slight tint of purple. Inspiring the name of this medical marijuana strain, the aroma is that of cherry pies. It is most commonly used by patients who are suffering from evident symptoms of PTSD, anxiety, bipolar disorder, migraines and other stress-oriented syndromes. Although it may cause dry eyes and mouth upon use by the patient, it definitely helps in elevating the level of euphoria, relaxing body and mind, uplifting moods and focusing the conscience. For patients who are specially looking for something that would ease muscle stiffness and related ailments, this can definitely prove its rescuing ability. Conclusively, this is the best kind of medically favorable marijuana strain that patients prefer above all others; it diminishes the above mentioned syndromes in the most relaxing order and even though sedation may cause irritation, but its value is still undeniable.
Indica Dominant Hybrid – 80% Indica / 20% Sativa
THC: 16% – 19%
Common Usage: ADD/ADHD, Chronic Pain, Depression, Fibromyalgia, Headaches, Insomnia, Loss of Appetite, Multiple Sclerosis, Stress
Effects: Euphoria, Happy, Relaxing, Sleepy
---
MAC and Cheese is an organic well-balanced hybrid strain, Sativa 50%, Indica 50%. This is the cross of MAC (Miracle Alien Cookies) and Alien Cheese. It is a strain that was bred a couple of years ago. Very rare and unique weed in Canada. MAC and Cheese has thick, zesty citrus notes that are balanced out by floral accents with a sweet, earthy and sour cheese notes. This hybrid offers mellow, relaxing effects and a blissful mood that doesn't completely knock you down. In combination with its super high 21% THC level, this strain is perfect for treating such conditions as chronic pain, mood swings, fatigue, depression, and stress. The most important effect is stimulating the mind and enhancing cerebral activity. Some enjoy MAC and Cheese for tackling their hobbies as creativity has been sparked, while others like to use it to lounge in front of the TV or play video games.
Hybrid – 50% Indica / 50% Sativa
THC: 18% – 21%
Effects: Euphoria, Happy, Hungry, Relaxing, Sleepy
May Help Relieve: Anxiety, Appetite Loss, Chronic Pain, Depression, Insomnia
---
Pink Panther AAAA $160.00/Ounce
Pink Panther has an energized effect on your system, making you feel creative and euphoric. It makes you happy and clear-headed at the same time. It is a blend of 85 percent Sativa and 15 percent Indica. As it is a Sativa dominant strain, it does have certain psychoactive effects on you. It has an airy feel to it and has light green leaves that are covered with brown hairs. Pink Panther has a 22 to 24 percent THC level that makes it a strong marijuana strain. Its CBD level is around 0.46 percent. It has a lovely aroma that is an amalgamation of sweet pine and pear scents. The taste is quite pleasant as well and is a blend of strong earthy and sweet flavours, including pine and pear flavours. The pungent aroma of Pink Panther gets straight to your head and produces a powerful buzz on your body. This strain excellent for the anxiety patients as it relieves their headaches, stress and other anxiety symptoms. In addition to that, you can use it for soothing your irritability and depression as well. Migraines, chronic and mild pains and nausea can also be mitigated by the use of Pink Panther.
Sativa Dominant Hybrid – 85% Sativa / 15% Indica
THC: 23% – 27%
Common Usage: Anxiety, Chronic Pain, Depression, Migraines, Mood Swings, Stress
Effects: Creative, Energizing, Euphoria, Happy, Uplifting
---
Exotic Strain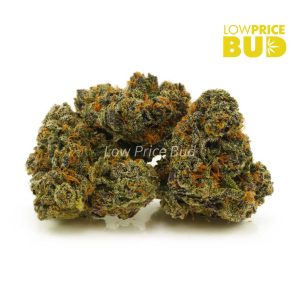 Super Gelato is a slightly indica dominant hybrid (55% indica/45% sativa) strain created through a cross of the infamous Sunset Sherbet X Thin Mint Girl Scout Cookies strains. This dank bud is infamous for its insanely delicious flavor and hugely powerful effects that are fueled by a THC level that hits its low point at 27% – 30% on average. Super Gelato has a flavor that's said to be much like a sweet sherbet, with fruity blueberry and orange flavors. The aroma is just as sickly sweet, with a lavender citrus berry bouquet that has a woody effect as the nugs are broken apart and smoked. Although it has a tasty flavor, Super Gelato is definitely best loved for its effects. Even with its slight indica dominance, the high is head heavy in nature and won't leave you sedated or couch-locked. It starts with a cerebral head rush that hits you in the forehead with an uplifted euphoria and a sense of slightly focused energy. As this head high blissfully builds, a creeping body buzz will slowly wash over you, leaving you completely relaxed and calm with a sense of peace and well being. These powerful and surprisingly well balanced effects make Platinum Gelato the perfect choice for patients suffering from muscle spasms, chronic pain, inflammation, chronic fatigue, and headaches or migraines. Super Gelato buds have large and lumpy super dense grape-shaped dark forest green nugs with rich purple and orange hairs and a super sticky coating of visible resin droplets.
Indica Dominant Hybrid – 55% Indica / 45% Sativa
THC Level: 27% – 30%
Common Usage: Bipolar Disorder, Chronic Pain, Depression, Fatigue, Fibromyalgia, Headaches, Inflammation, Insomnia, Loss of Appetite, Muscle Spasms, PTSD
Effects: Creative, Euphoria, Focus, Happy, Relaxing
---
Nike Hash
$10.00/Gram
Shop now
Gas Leak Vape Pens
$30.00
Shop now
$70.00/Ounce
---