Do Dab Pens Smell & Other Questions About Vape Pens
Do dab pens smell? Technically yes, but the answer to this question is not what you think. 
While vaping indoors can make your environment smell a certain way, the smell of dab pens is different from fresh cannabis. 
In reality, dab pens do not produce the same smell or effects of fresh weed. 
This article will provide you with all of the answers you were hoping to find, including "do weed pens smell?", "how long does the smell linger?", and so on. 
Additionally, you'll find out which dab pens are worth your cash and what to look for when shopping for quality, yet cheap weed. 
Yes, budget buds are out there! You just need to look for the right dispensary and the best discounts. 
By the end of this article, you will know everything there is to know about dab pens and vapes and vaping indoors. Buckle up, and get ready, because it's going to be a trip. Keep reading.
Do Dab Pens Smell?
Do dab pens smell like weed? Well, yes.
Keep in mind that you are heating extremely potent cannabis products, so it is natural that there is a smell created when it's inhaled back into your room. 
Luckily, the smell is not as strong as when you smoke a pipe or a joint. 
While dab pens do have the signature cannabis smell, it is not as potent. Also, the smell won't last that long. 
Nevertheless, the answer to "how long does weed smell last?" is also not that easy to answer. 
The time frame will depend on a variety of factors, including the ventilation system and whether you have window access. If you do, the smell will disappear quickly. 
In fact, joints typically stink for a much longer time and their smell is harder to get rid of. 
Overall, if you are looking for a discreet alternative to smoking weed but you don't want to compromise the quality of the high, dab pens are an excellent choice for you. 
Keep in mind that there are many factors that can influence the smell of your dab pen. 
For instance, this includes the type of dab pen or vape pen, the quality of the concentrate, as well as the size of your room.
It is also always best to buy weed online from a reputable dispensary such as Low Price Bud. 
By purchasing only high-quality buds and vape pens, you will ensure that your cannabis experience is maximized and the side effects are zero.
Why Do Weed Pens Smell?
Now that you are aware that dabs DO smell, you may be wondering: Why do dabs have that smell? The answer is simple. 
Whether you are using dab rigs or dab pens, the material of the dab has to be heated into vapour. 
Remember that this resulting vapour is different from the smoke that is created from burning the plant material. 
Nevertheless, this vapour is made from heated molecules that the smoker inhales and exhales. 
You get the pungent dab odour from the amazing compounds in the dab materials called "terpenes". 
For reference, these aromatic compounds in weed give different strains their unique flavour, aroma, and benefits. 
As a result, the vast majority of the smell of your dab will come from terpenes released by creating vapour. Sometimes, terpenes are present after exhaling. So, that's why dabs smell.
If you were expecting the answer to the question of "do dabs smell?" to be no, you may feel disappointed. 
The good news is that there are many effective ways to reduce the dab smell, so you can enjoy the finest concentrates and cannabis products more discreetly. 
If you have furious neighbours or you just want to get rid of the smell of dab pens quickly (for whatever reason), here are a few ways you can do it.
Let Some Air In
Opening a window is the number one best way to get rid of the smell of dab pens. 
While it won't make the smell disappear entirely, it will reduce it. 
Stoners also recommend getting some air fresheners to mask the smell.
Make a Sploof
Make a sploof to get rid of the smell of dab pens more quickly. We recommend making sploofs with toilet paper rolls and dryer sheets. 
Begin by crumpling up dryer sheets. Next, place them into the empty toilet paper roll. 
When taking the dab, blow the vapour via the toilet paper roll. You'll end up with a smell that resembles fresh laundry.
Use Incense and Candles
If you want to avoid air fresheners, you can opt for candles or incense. Best of all, this method is typically very budget-friendly and easy to do.
Do Dab Pens Smell Like Weed?
Yes, dab pens smell like weed – this can be a good or a bad thing, depending on what you are looking for. 
As mentioned earlier, the smell of dab pens or vapes is not as potent as dry herbs. Furthermore, the smell does not linger as long.
The Best Dab Pens from Our Online Dispensary
Are you ready to buy weed online? Whether you are a beginner or an expert stoner, you'll find something below that suits your preference and taste. 
Most of all, all of the following suggestions are budget-friendly and accessible. 
Because let's face it, most dab pens available on the market are overpriced and often ineffective. 
That said, these dab pens from our weed dispensary are of top-tier quality and are easy to use. Check them out and buy weed online today.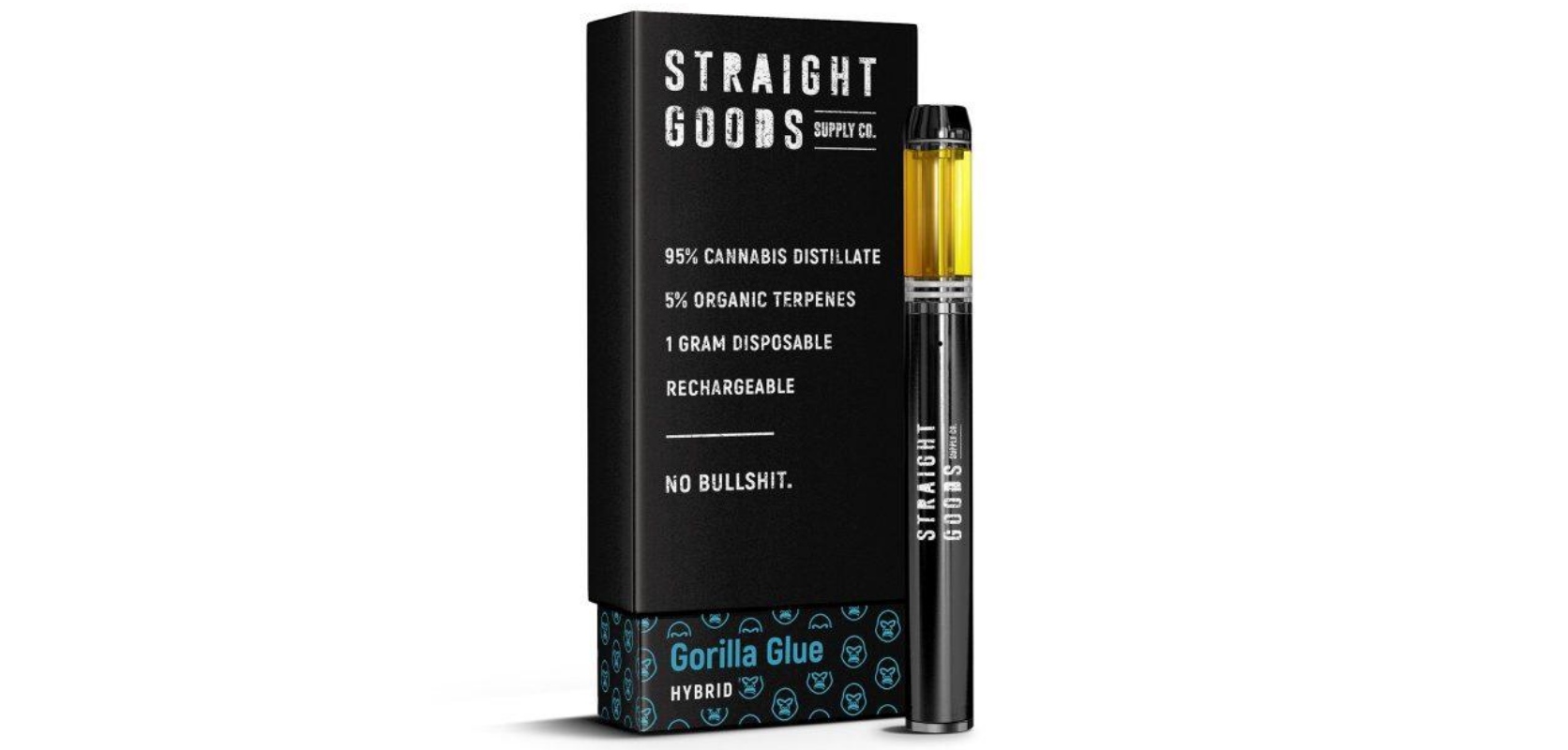 Straight Goods – Gorilla Glue Disposable (Hybrid)
Straight Goods is famous in the cannabis community, and for a good reason. 
Their products are always superb, and effective, and the versatility is almost endless. 
For instance, take a look at the Straight Goods – Gorilla Glue Disposable (Hybrid). 
This is a distillate rechargeable disposable that contains only two ingredients: organic plant-based terpenes and the highest-grade solvent-less delta-9 THC distillate. 
There is no MCT, PEG, PG, or VG in the formulation. 
This product also features 1ml 510 threading cartridges that employ the newest technology. 
As a result, you get the tastiest and cleanest cannabis experience. Plus, thanks to the hybrid Gorilla Glue, you'll get to enjoy the best of both worlds, Indica AND Sativa.
So High Extracts Premium Vape 0.5ML THC – Blood Orange (Indica)
So High Extracts is another popular brand in the cannabis community. 
We strongly suggest adding this Blood Orange (Indica) vape pen to your itinerary if you are suffering from chronic or acute inflammation, stress, anxiety, and other life-debilitating issues. 
This product features Blood Orange, a powerful Indica strain known for its delicious taste, fruity aroma, and mind-altering abilities. 
This product will lock you to your couch and make you feel like you're melting. 
The pen itself includes a standard 510 threading, and it is compatible with the majority of reusable vape pens. In each package, you get a 0.5ml cartridge. 
That's incredible, considering that the So High Extracts Premium Vape 0.5ML THC – Blood Orange (Indica) costs only $20 on sale.
CG Extracts Premium Concentrates Mimosa 1ml
If you are looking for a unique and life-changing experience, the CG Extracts Premium Concentrates Mimosa 1ml is the right option for you. 
As you can guess, this product features the Mimosa strain, a Sativa-dominant hybrid with around 23 percent of THC. 
Recreational and medical cannabis users will enjoy this strain, especially if they want to feel relaxed, focused, and stress-free. Who doesn't want to feel that way? 
Plus, if you enjoy the cocktail namesake, then this fruity tropical mixture will satisfy all of your boozy cravings. According to users, the high will begin as a sudden energy boost and clear-headedness. 
Soon, you'll notice all of your negative thoughts and limiting beliefs fade away, leaving room for only positivity. 
The CG Extracts Premium Concentrates itself features a standard 510 threading, and it is compatible with the majority of reusable pens. In each package, you get 1ml of the cartridge.
How Long Does Weed Smell Last?
You already know that weed is super aromatic. According to some stoners, the smell of weed can linger for up to one week! 
Of course, this will depend on the ventilation in the room, the quality of weed, and many other factors. 
Some consumers jokingly say that the rule is that the smell usually lasts five times longer than a smoker may think. 
For instance, if you smoke indoors, the smell can linger for more than five hours. 
If you are a passionate smoker, you may have gotten used to the smell of weed, and for you, it won't be as noticeable. 
Potheads suggest avoiding smoking in the living room, as the smell tends to stick to the upholstery. Instead, smoke outdoors or in the kitchen area.
Where Can I Buy Weed Online in Canada?
Do dab pens smell? Yes, they do, but the smell is less intense than smoking dry herbs. 
Also, the smell doesn't linger as long. Buy weed online today and find out why dab pens are the new hit among stoners worldwide. 
Get some at the best online weed dispensary, Low Price Bud. This is the best online dispensary in Canada if you want the best potency, variety, ultimate flavour and aroma, and budget-friendliness. 
Grab some mail order marijuana today, save money, and get the hottest budget buds delivered to your address.