Find The Next-Level High With These 100mg THC Pills
So you are looking for the best 100mg THC pills – we've got you covered. 
This expert-approved article features and reviews the best THC capsules in Canada that are effective, long-lasting, and most importantly, safe. 
On top of that, you will learn everything there is to know about these cannabis products, including the THC capsules effects, possible side effects, and more. 
Plus, you will learn how to save money during your next shopping spree. 
Because let's admit it – cannabis products at an online dispensary or physical store can be expensive. That changes today. 
Choose a trusted online weed dispensary such as Low Price Bud and save tons of money on the highest-quality value buds.
If all of this sounds good, keep scrolling for the rest.
What are THC Pills?
Let's get straight to the point: What are weed capsules, and why are they so popular? 
In short, THC pills or weed capsules are oral medications that contain the psychoactive component of the cannabis plant, delta-9-tetrahydrocannabinol (or THC for short). 
As a reminder, THC is the compound responsible for the "high" associated with cannabis use. 
These THC pills are used as a form of treatment for various medical conditions such as pain, nausea, stress, anxiety, and loss of appetite. 
Interestingly, the effects typically take longer to onset compared to smoking or vaporizing cannabis. 
There are countless reasons why you may want to try weed capsules. Here are some of the many advantages of these cannabis products. 
Weed Capsules are Discreet:

THC capsules are easy to consume, and you can take them with a glass of water. Also, they are one of the most discreet forms of treatment.

The Dosing is Very Consistent

: THC capsules are available in standardized doses, which makes it easier to control the amount of THC consumed and monitor its recreational or medical effects.

THC Capsules are Long-lasting

: The effects of THC capsules

can last several hours

(up to eight hours), making them a useful form of treatment for patients dealing with chronic conditions that require long-lasting relief.

Zero Smoking or Vaporizing Required

: You don't have fancy vaping or smoking equipment? No worries!





Taking THC capsules eliminates the need to smoke or vaporize cannabis, which may not be appropriate for everyone.
However, it's important to note that the onset of effects from THC capsules may take longer compared to other forms of consumption like smoking or vaping. 
Make sure to always follow the advice of a licensed medical professional and a knowledgeable budtender at your dispensary. 
Always follow the recommended dosing instructions.
The Best 100mg THC Pills to Buy from Our Dispensary
Are you on the hunt for the perfect 100mg THC pills? Wonder no more. 
We've gathered up and reviewed the best-selling THC pills from our online dispensary in Canada, Low Price Bud. 
These THC pills are the highest-rated and the most effective of their kind available on the market. 
Purchase these THC capsules in Canada and find out what the hype's about. But first, check out these detailed reviews.
1. Mary's Medibles – THC Capsules 10mg Indica
The Mary's Medibles – THC Capsules 10mg Indica is the best option if you want to feel relaxed, stress-free, and sedated. In each bottle, you get 40 high-quality capsules with 10mg of THC per pill (or 400mg of THC in total). 
So, if you want to use 100 mg of THC, Mary's Medibles makes dosing super easy – you will need ten of the capsules. 
According to users, these weed capsules help you with inflammation, chronic pain, anxiety, and other body-related conditions. If you are dealing with sleep disorders, you will also enjoy them. 
Purchase the Mary's Medibles – THC Capsules 10mg Indica for a mere $48.
2. Mary's Medibles – 1:1 THC CBD Capsules 20mg
The Mary's Medibles – 1:1 THC CBD Capsules 20mg is a good choice for consumers who want to enjoy 100 mg of THC while at the same time benefiting from CBD. 
Each bottle contains 25 capsules or 20mg of THC and CBD per pill (in total, you get a whopping 500mg of THC and CBD). If you want to use 100 mg of THC, five pills will do the trick. 
Use these weed capsules to bring balance and positivity into your life. 
Ward off all signs of stress, anxiety, and negativity today. 
Yes, the price is a bit on the high-end side, but these weed capsules go a long way and they are one of the most powerful on the market. Purchase them today for $105.
3. Mary's Medibles – THC Capsules 50mg Sativa
The Mary's Medibles – THC Capsules 50mg Sativa is for consumers who want to feel energized and bursting with life. 
If you have a lot of projects to finish but you feel distracted and "stuck", use these Sativa extra-strength THC capsules. 
Each bottle contains 30 capsules with 50mg of THC per pill (in total, you get 1500mg of THC). We recommend this product for consumers who are dealing with serious medical conditions. 
For instance, patients with inflammation, chronic pain, nausea, and appetite loss may find these weed capsules beneficial. 
Recreational cannabis users seeking the best product "on the go" will also enjoy the focus-sharpening and creativity-boosting perks of Mary's Medibles. 
For $90, you get an excellent deal.
What are the THC Capsules Effects?
Whether you are a recreational cannabis user chasing the next best high or a medical patient seeking an alternative cure to a disease, you can reap the benefits of weed capsules. 
Here are some of the most common recreational and medical benefits of using THC capsules.
Recreational Benefits of THC Capsules:
They provide a relaxed, blissful, euphoric and elevated mood

Stimulate appetite, boost productivity and spark creativity

Helps relieve stress and anxiety
Medical Benefits of THC Capsules:
Alleviates chronic pain, inflammation and discomfort

Reduces symptoms of depression, tension, and anxiety

Improves sleep quality (suitable for patients with insomnia or other sleep-related disorders)

May support neurodegenerative diseases like multiple sclerosis (MS) and epilepsy
As mentioned earlier, weed capsules are potent and long-lasting. 
Because of this, it is crucial to consult with a medical professional and an expert budtender to determine the correct dosage for you. 
Never attempt to self-medicate with THC capsules or any other cannabis product.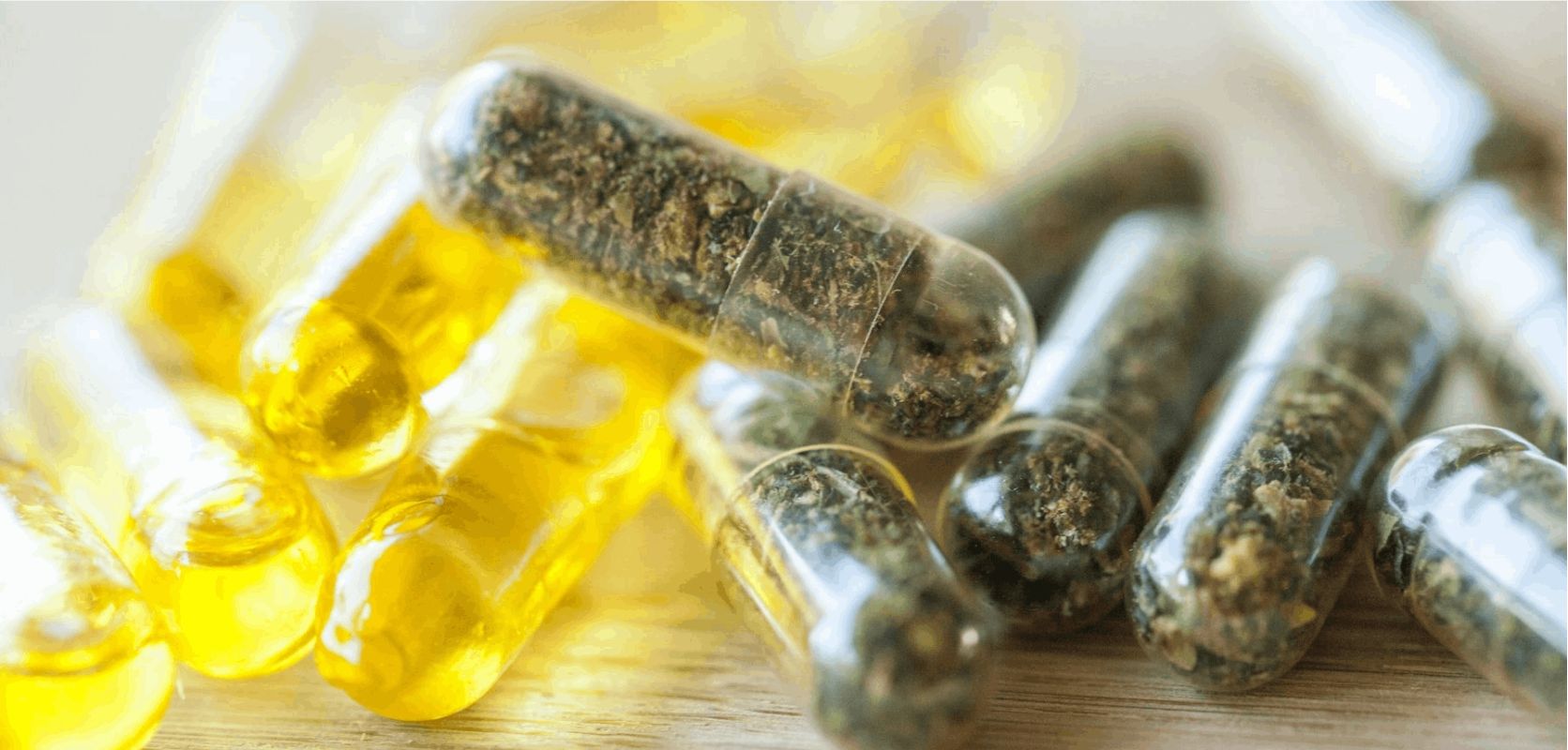 Who Needs to Get THC Capsules in Canada?
Anyone who wants a convenient and easy way to enjoy the benefits of THC will enjoy these cannabis products. 
Overall, consumers who are looking for the following will want to grab some THC pills from Low Price Bud, the best online dispensary in Canada.
Consumers who prefer a discreet form of consuming cannabis.

Consumers who want consistent dosing.

Consumers who are dealing with severe chronic conditions such as inflammation and pain.

People who are looking for affordable products and quality cheap weed. 
How to Determine the Right Dose of Weed Capsules for Me?
When using THC capsules, the correct amount for you will depend on some factors such as your personal tolerance, the type of product, and whether it's targeted for recreational or medical use. 
The key is to begin with minimal amounts and increase as needed (Make sure to check in with how you are feeling, physically and mentally).
If you're using weed capsules for medical reasons, talk to a medical professional who can help you figure out the perfect dose for you. 
The medical expert will also keep an eye on how your body responds and adjust the dose if required.
Consumers who are using the capsules for pure fun should always try to follow the instructions on the label. 
Keep in mind that the effects of THC may take a while to kick in and too much can cause some side effects such as cottonmouth or red eyes.
Most importantly, enjoy the overall experience.
Do THC Capsules Have Side Effects?
Weed capsules, like any other form of marijuana product, can also provide you with some potential side effects. 
However, many people find these adverse effects to be manageable. In fact, some even view them as part of the overall cannabis experience!
While side effects are highly unlikely if you adhere to the appropriate dosages, they can occur. Here are some to take into consideration:
Dry mouth or cottonmouth

Dry eyes

Increased heart rate

Feeling dizzy

Increased appetite and possible weight gain (when used long-term)

Red eyes
Remember, everyone reacts differently to THC. Some potheads may not experience any side effects at all. 
Moreover, the intensity and duration of the mentioned side effects can vary depending on a few factors such as the dose, the experience level, and the individual's tolerance.
In general, these side effects of THC are temporary. If you are experiencing any of the mentioned, relax – they should subside within a few hours. Drink lots of water and rest.
Where Can I Purchase Quality THC Capsules in Canada?
A better-equipped online weed dispensary or a brick-and-mortar dispensary will offer THC pills. Look for the most reliable sources to ensure maximum quality and safety.
Where Can I Buy Weed Online in Canada?
You can purchase 100mg THC pills and other budget buds from Low Price Bud, Canada's best dispensary. Save loads of money and time – buy weed online today.