Black Diamond Strain Review From Our Online Dispensary
Welcome to our comprehensive guide on the Black Diamond strain, the dark and seductive Indica-dominant hybrid that's been making waves in the stoner's community. 
In this guide, we'll analyze the Black Diamond weed, covering everything from its THC content and terpene profile to its rich flavours and aromas. 
And of course, we'll explore the effects of this potent strain and how it can enhance your next smoking experience.
On top of all of this, we'll also reveal the best places to buy the highest-grade Black Diamond strain in 2023, so you can get your hands on this gem of a strain and enjoy its many benefits. 
Get ready and become a pro on the Black Diamond weed strain!
Black Diamond Strain: Every Stoner's Best Friend
The Black Diamond strain is a popular and potent Indica hybrid that boasts a robust genetic makeup of 70 percent Indica and 30 percent Sativa. 
As a result, this balance creates a relaxing and uplifting high that can help to relieve pain and stress, making it a favourite among medical marijuana patients and recreational users alike. 
The THC content of the Black Diamond weed strain typically ranges from 18 to 24 percent, while CBN levels are around 1 percent.
The genetics of the Black Diamond strain can be traced back to a cross between Blackberry and Diamond OG, both of which are well-known for their potency and relaxing effects. 
This lineage has resulted in a strain that is beloved for its ability to ease anxiety, pain, and insomnia.
If you're looking for the best and most flavoursome Black Diamond strain available, look no further than Low Price Bud, the premier online weed dispensary in Canada. 
What are you waiting for? Buy weed online today!
Black Diamond Strain THC Content
The Black Diamond strain THC content is definitely something to take note of if you're interested in trying this potent Indica hybrid. 
As mentioned, while the THC content typically ranges from 18 to 24 percent, the actual percentage can vary based on several factors. 
For instance, this includes the quality of the batch, the specific product you're purchasing, and even the reliability of the online dispensary you choose to buy from.
Fortunately, if you're looking for the most potent Black Diamond strain THC possible, you can trust that Low Price Bud has got you covered. 
This Canadian dispensary offers only the highest quality, most reliable products, so you can enjoy the full effects of this Indica strain.
Black Diamond Weed Terpene Profile
The terpene profile of the Black Diamond strain is quite diverse and interesting. 
In a few words, this Indica-dominant hybrid contains a variety of terpenes, but the most abundant one is Myrcene.
Besides Myrcene, here are some of the other terpenes that you can find in this strain:
Pinene

: Known for its piney aroma, Pinene is a common terpene found in many weed strains. Experts say that Pinene has anti-inflammatory and bronchodilatory properties.

Ocimene

: This is a sweet and herbal terpene that you typically find in a variety of plants. Experts say that Ocimene has anti-inflammatory, antifungal, and antiviral properties.

Geraniol

: Well-known for its enticing floral aroma, Geraniol has a sweet and fruity scent. Sources say that it has antibacterial and antioxidant properties.

Humulene

: This is a woody and earthy terpene present in hops. You can expect anti-inflammatory and analgesic properties.

Linalool

: As for this terpene, it is renowned for its floral and spicy scent – you can find it in lavender. If you are aware of the healing properties of lavender, you already know that Linalool has relaxing and sedative properties.

Phellandrene

: Minty and ultra-citrusy! You can find Phellandrene in eucalyptus and cinnamon. Sources note that this terpene has antibacterial and anti-inflammatory abilities.

Caryophyllene

: Caryophyllene is a spicy and peppery terpene with anti-inflammatory and analgesic properties.
Last but not least, Myrcene is responsible for giving the Black Diamond strain its earthy and musky aroma. This terpene in cannabis is known to have sedative and relaxing effects on the body, making it a great option for people dealing with insomnia, stress, or anxiety. 
That said, Pinene and Ocimene also play an important role in the Black Diamond strain's overall effects. Pinene has a stimulating effect and can help with focus and mental clarity, while Ocimene has a calming effect and can help with anxiety and stress.
Black Diamond Weed Recreational and Medical Effects
As you know, Black Diamond is an Indica strain that provides a relaxing and calming high, leaving you feeling euphoric and at ease. 
The effects of the Black Diamond strain are primarily physical, with a potent body buzz that can leave you feeling couch-locked and sleepy.
What about the high, is it really out of this world? Yes, it is!
The high that comes with the Black Diamond strain is perfect for anyone looking to relax after a long day of work or to unwind during a lazy weekend. Its calming effects can ease your mind, release tension, and provide relief from stress and anxiety.
On the medical side, the Black Diamond strain has many beneficial properties. Its sedative effects can provide relief from pain, muscle spasms, and cramps. 
The high THC levels in this strain can also help alleviate symptoms of insomnia, mild to moderate depression, and anxiety.
In summary, the Black Diamond strain is perfect for recreational and medical users looking for a potent and relaxing high that can provide relief from various symptoms. 
While its effects are primarily physical, you may also expect a light cerebral rush.
If you're looking for a strain that can help you relax and melt away your worries, give the Black Diamond strain a try.
The Flavour and Aroma of the Black Diamond Strain
Where to start? 
The Black Diamond has a distinctive aroma that is sweet, earthy, and woody, similar to the infamous Fruity Pebbles strain.
According to weed lovers, this strain smells like you're walking through a forest after it rained, only with a touch of sweetness. 
When you light it up, this Indica releases a rich and smooth smoke that tastes like a blend of sweet berries, with a hint of spicy pepper on the exhale. 
Users note that it's like biting into a juicy fruit while enjoying some freshly ground pepper. The flavour is as complex and unique as the strain's lineage, leaving you with a satisfying aftertaste that's hard to forget.
Black Diamond Kush: Interesting Facts
Here are three fun facts we bet you didn't know about the Black Diamond Kush strain! Take a look and amaze all of your friends.
Black Diamond Kush is a strain that originated from Northern California and is a cross between Blackberry and Diamond OG.

The name "Black Diamond" comes from the strain's appearance, which is dark purple and covered in trichomes, resembling a precious gem.

Despite its potent effects, the Black Diamond Kush strain has a relatively short flowering time of 8 to 9 weeks.
The Best Black Diamond Weed to Buy at Our Online Dispensary in Canada
Are you ready to buy weed online? Here are the best products to get from our online weed dispensary, Low Price Bud, especially if you are on the hunt for something like the Black Diamond strain. Check out these reviews.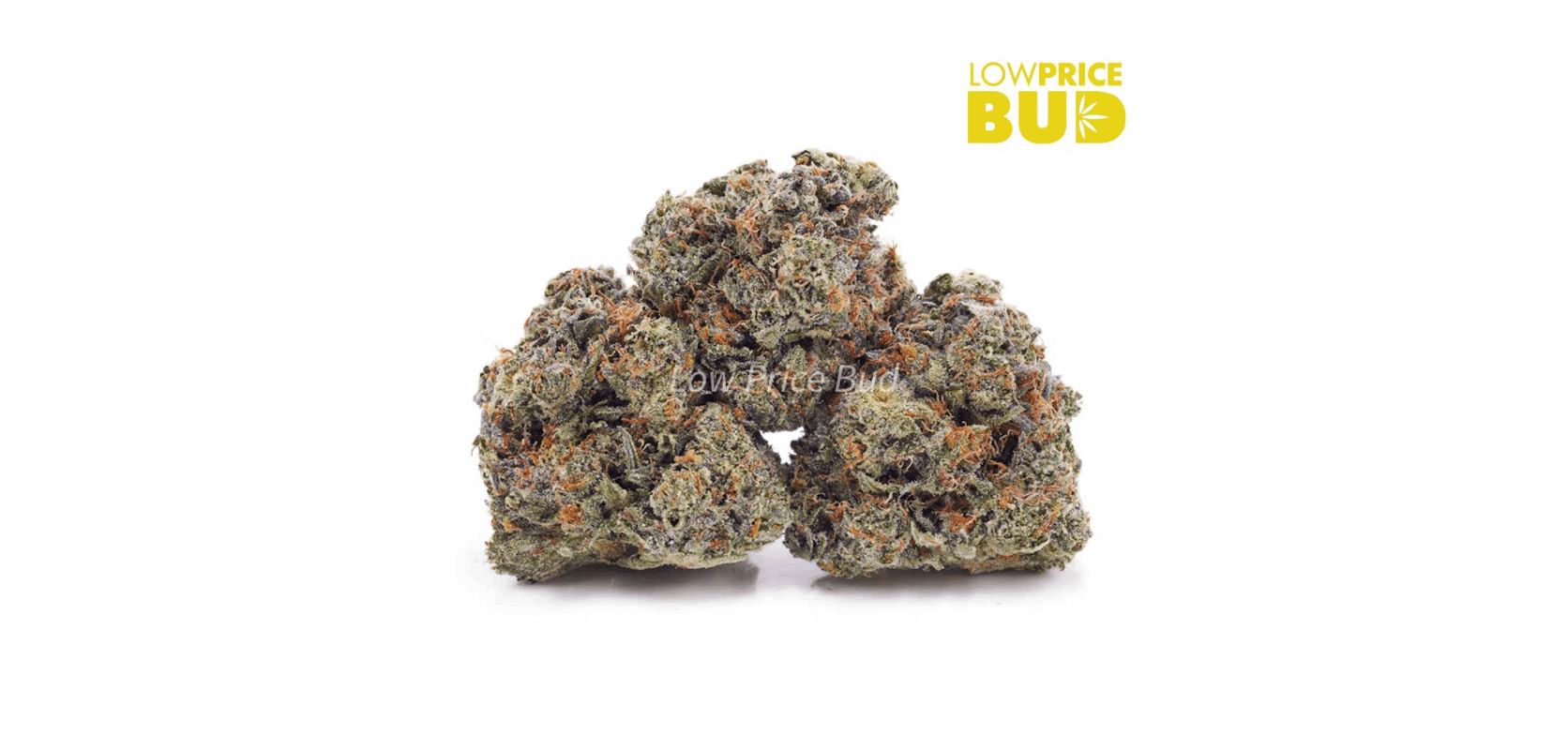 1. Pink Kush (AAAA)
Looking for a Black Diamond alternative that hits just as hard?
If so, the Pink Kush (AAAA) Indica will satisfy all of your needs. This is a hybrid powerhouse that packs up to 28 percent of THC. 
Pink Kush is a top-shelf strain that delivers potent body-focused effects to help alleviate symptoms of anxiety, moderate cases of depression, chronic pain, and inflammation.
But it's not just the high THC content that makes Pink Kush stand out – its candy and sweet vanilla perfume will leave you completely hooked. 
Whether you're a cannabis expert or a complete newbie, you'll appreciate the unique flavour and aroma of this strain.
At only $8, Pink Kush (AAAA) is a great alternative to the Black Diamond strain. Buy some today and experience the full-bodied effects and delicious taste of this top-shelf Indica.
2. Blue Fin Tuna (AAA)
Are you on the hunt for a powerful Indica strain that can help you ease your chronic pain and anxiety? 
The Blue Fin Tuna (AAA), an excellent alternative to the Black Diamond strain, will make you insanely addicted in an instant.
With a THC content of around 23 percent, Blue Fin Tuna is a potent Indica hybrid that can help you relax and unwind after a stressful work day.
Moreover, this strain is perfect for patients suffering from insomnia or muscle spasms, and its energizing yet relaxing effects will leave you feeling euphoric and sleepy at the same time. 
The taste may not be for everyone, but true connoisseurs will appreciate its unique, pungent flavour profile. 
Don't miss out on the chance to buy Blue Fin Tuna for as low as $5, only at Low Price Bud – the highest-rated place to buy weed online.
Buy Weed Online in Canada
Purchase the Black Diamond strain today and get a taste of the most exquisite, premium-grade and longest-lasting Indica of your life – for cheap! 
Buy weed online today and indulge in the tastiest and safest budget buds. Get some weed from Low Price Bud and treat yourself to a luxurious canna experience.