What is a THC Vape Pen & How Do You Use One?
Welcome to the ultimate guide on using and enjoying a THC vape pen! 
Whether you're a beginner looking to learn how to vape THC or an expert seeking to take your vaping game to the next level, this guide is perfect for you. 
Here, you'll find everything you need to know about using a THC vape pen, from selecting the right pen to mastering different vaping techniques. 
You'll also discover where to get the best THC vape pen in Canada and how to choose the right vape to suit your preferences. 
Get ready to become a master of vaping! Keep reading for all the must-know details about choosing and using a THC vape pen.
What is a THC Vape Pen?
Before jumping into how to use a weed vape pen, it's important to understand what these devices are and how they work. 
In a nutshell, a THC vape pen is a revolutionary handheld vaporizer designed specifically for marijuana concentrates, such as weed oil or distillate. 
Unlike traditional smoking methods, a vape pen heats up the concentrate without burning it, producing a smooth vapour that you can inhale instead of smoke. 
Who may benefit from a THC vape pen?
THC vape pens are a great option for consumers who want to discreetly consume cannabis without the smell and harshness of smoking.
If you're looking to buy a THC vape pen in Canada, you'll want to consider the psychoactive content and choose a device that meets your needs. 
Namely, some weed lovers may prefer a low-THC vape pen for a milder experience, while others may want a high-THC vape pen for a stronger effect. 
Always make sure to choose a quality THC vape pen from a trusted source to ensure that it's safe and effective.
Fortunately, we know a trusted online dispensary with a stellar reputation!
Low Price Bud is the best online dispensary in Canada for high-quality THC vape pens. 
This weed store offers an impressive range of products, including disposable vape pens and rechargeable pens with replaceable cartridges. 
All of Low Price Bud's vape pens are made with high-grade, lab-tested cannabis oil, ensuring a tasty and effective vaping experience every time. Buy budget buds today!
What are Cartridges for Weed Vape Pens?
When it comes to using a THC vape pen, one important component to understand is the cartridge, also known as a "cart". 
Essentially, a cartridge is a small container that holds the THC oil or distillate that you will vaporize and inhale through the vape pen.
In short, cartridges for weed vape pens come in various sizes and shapes, but most are designed to be compatible with specific vape pen batteries. 
They consist of a few basic parts, including an easy-to-use mouthpiece, a chamber for the oil, and a heating element. 
Some cartridges are refillable, allowing you to add your own THC oil, while others are pre-filled and disposable (disposable carts are usually cheaper).
Remember, not all cartridges for weed vape pens are created equal, and the quality of the THC oil inside can vary greatly. 
When choosing a cartridge, look for a reputable supplier like Low Price Bud, a dispensary famous for high-quality and lab-tested products.
As you know by now, Low Price Bud offers a wide range of cartridges for weed pens, including options for different strains and flavours. 
If you're looking to buy weed online and want to ensure you're getting the best quality cartridges for your vape pen, Low Price Bud is the perfect place to start your search.
What are the Different Types of Weed Pens I Can Buy Online?
There are a few different types of weed pens you can choose from when on the hunt for the ideal THC vape pen. 
Here are some weed vape pens to consider:
Disposable vape pens

: These are single-use vape pens that come pre-filled with a set amount of THC oil. Once you use up all of the oil, you can throw the entire device away.

Cartridge-based vape pens

: These pens consist of a rechargeable battery and a separate cartridge that contains THC oil. Once the cart is completely empty, you can purchase a replacement cartridge and continue using the same battery.

Refillable vape pens

: Finally, these are similar to cartridge-based vape pens, but instead of replacing the entire cartridge, you can refill the cartridge with THC oil as needed.
But what are some factors to keep in mind when shopping? When you're looking to buy a THC vape pen, there are a few things to consider:
Battery life

: Seach for a pen with a battery that will last for several uses before needing to be recharged.

THC potency

: Make sure you choose a THC vape pen that offers the potency you're looking for. This can vary depending on the type of cartridge or oil you choose.

The reputation of the brand

: Look for a reputable brand that uses high-quality materials and provides lab testing results for their products.
At Low Price Bud, you can find a wide range of different weed pens to choose from. 
As a quick reminder, this weed store offers disposable vape pens, cartridge-based pens, and refillable pens, all with varying levels of THC potency to suit your needs. 
What are the Benefits of Weed Vape Pens?
All in all, THC vape pens offer a convenient and discreet way to enjoy the benefits of THC. 
Here is a recap of the many benefits of THC and what you can expect.
The recreational benefits of THC include feelings of euphoria, relaxation, and increased creativity. 
THC also has potential medical benefits, such as pain relief, reduced anxiety and depression, as well as improved sleep.
When it comes to vaping THC, the benefits are even more pronounced. 
Vaping THC allows for faster onset and more potent effects, making it a popular choice for people seeking immediate relief. 
Additionally, vaping avoids the harmful toxins associated with smoking cannabis, making it a safer option. 
Last but not least, vaping also allows for greater control over dosage and consumption, as users can easily adjust their intake to meet their needs. 
This last advantage may be especially useful for medical cannabis patients who need a consistent dose of THC.
How Do I Vape THC?
Using a THC vape pen cannot be simpler! Check out these simple steps when vaping THC:
Charge your vape pen

: Begin by making sure your vape pen is fully charged before using it.

Fill your cartridge

: Next, fill your cart with your preferred THC oil or e-liquid.

Attach your cartridge: After that, make sure to attach your filled cartridge to the battery of the vape pen.

Turn on your vape pen

: Some vape pens have a button to turn on, while others may turn on automatically once you inhale.

Inhale

: Here comes the exciting part! Place the mouthpiece to your lips and inhale the vapour. Take small puffs at first to see how your body reacts to the THC.

Exhale

: Exhale the vapour and wait a few minutes to see how you feel.
Enjoy!
As always, start with small doses of THC and wait for the effects to kick in before taking more. 
Also, be sure to purchase your THC vape pens and cartridges from a reputable dispensary like Low Price Bud to ensure quality and safety.
The Best THC Vape Pen in Canada to Try Today
Are you eager to buy your first THC vape pen in Canada? 
Check out these detailed reviews and choose the best THC vape pen for you! 
Remember, you can get these weed vape pens and many other superb products at Low Price Bud, the best online dispensary in Canada.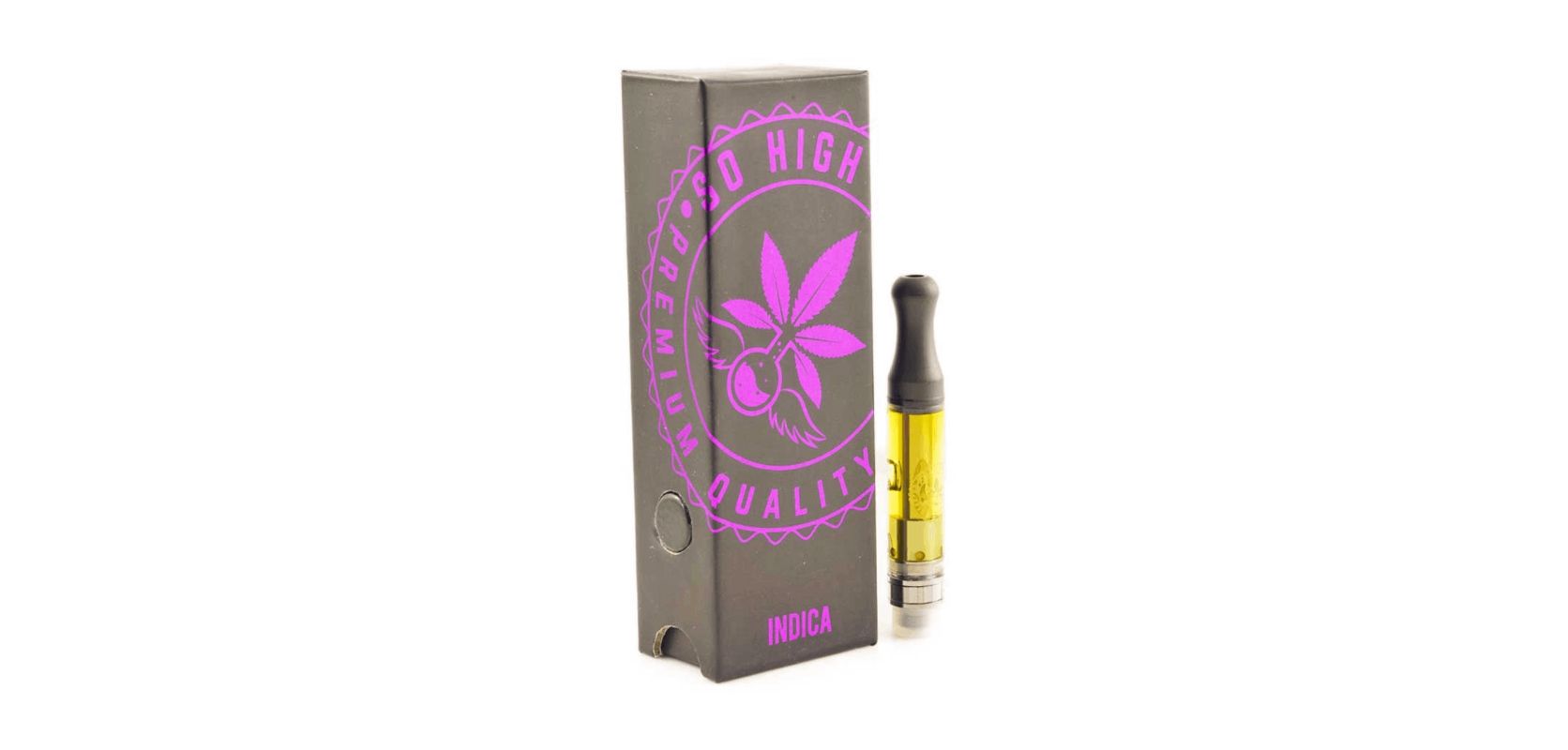 1. So High Extracts Premium Vape 1ML THC – Granddaddy Purple (Indica)
If you're on the lookout for a reliable and effective THC vape pen to help you unwind after a long day, then the So High Extracts Premium Vape 1ML THC in Granddaddy Purple (Indica) is definitely worth a go.
The calming and soothing properties of this legendary Sativa strain make it perfect for recreational and medical users dealing with anxiety and stress. 
Not only that but it's also great for treating a variety of medical conditions such as chronic pain, inflammation, mild to moderate depression, and insomnia.
The standard 510 threading ensures that this premium vape is compatible with most reusable THC vape pens.
And with a generous 1ML of THC extract, you can be sure that you're getting the best bang for your buck.
Buy this THC vape pen for as low as $30, currently on sale at our online dispensary in Canada.
2. So High Extracts Disposable Pen – Lemon Skunk 1ml (Sativa)
Looking for a THC vape pen that's perfect for creative blocks and lack of focus? If so, the So High Extracts Disposable Pen in Lemon Skunk 1ml (Sativa) may be the best solution for you.
This highly-rated vape pen uses the power of Lemon Skunk, a famous Sativa strain, to boost creativity, remove mental blocks, and leave you feeling energized and productive.
The best part? This pen is disposable, making it a convenient and easy-to-use option for on-the-go cannabis users. 
Enjoy the benefits of high-quality THC without the hassle of messy refills or complicated cartridges. 
Buy this exclusive weed pen for a meagre $30, at discount from your favourite online dispensary in Canada, Low Price Bud.
Buy Weed Online in Canada
Purchase the best and most effective THC vape pens today at Low Price Bud and treat yourself to the highest-rated cannabis available in Canada. 
Hurry up and take advantage of the most flavourful budget buds -save money without sacrificing quality. Buy from the best online dispensary today.