Introducing Mind-Blowing Premium 5 THCA Diamonds to Canada
Premium 5 THCA Diamonds are incredibly high in potency. Extracted from freshly-frozen strain-specific buds, these diamonds are developed in terpene sauce. 
This results in a potent diamond-looking crystalline structure with a wonderful subset of flavourful terpenes. 
These diamonds are also simply known as THC diamonds, however, the distinction lies in the absence or presence of terpenes
Simply put, premium 5 THCA diamonds are 100% pure THCA with some added flavour – ready to be converted into mind-blowing and medically beneficial THC. 
This Premium review exists to point you in the right direction when it comes to buying the best Premium 5 THCA diamonds on our green earth. 
But first, we thought you'd appreciate the opportunity to gain some more insight into the difference between terpenes and crystallines (or diamonds).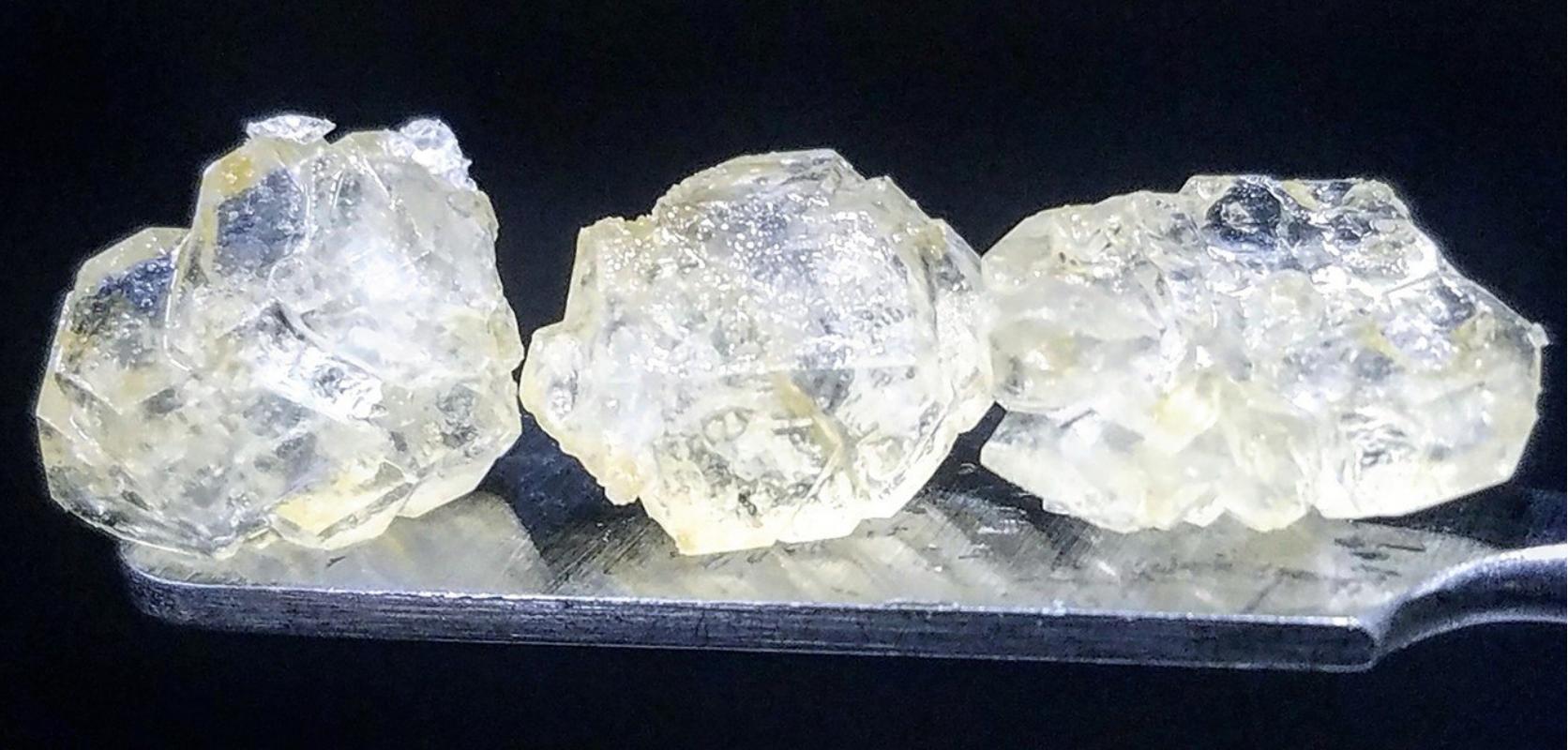 A Word on Terpene Sauce and Crystalline
As mentioned above; what sets reguglar diamonds apart from Premium 5 THCA diamonds is the fact that the latter contains a percentage of terpene sauce. 
You might be familiar with vape cartridges, ready to load with diamond terp sauce. 
Cannabis THCA diamonds specifically refer to the crystalline, diamond-looking structures that are left over after the terp sauce has been removed.
Premium 5 diamonds are coated in residual terp sauce. 
So, in essence, the main difference between these types of diamonds comes down to the manner in which they've been extracted and/or processed. 
Whether presented as high-terpene diamonds or as isolated THCA, these crystalline pieces are as pure as it gets!

Where to Buy Premium 5 THCA Diamonds Online?
If you're looking for Premium 5 diamonds to buy online, you've arrived at your premium destination. 
Buying weed online in Canada nowadays may require some navigational skills. And if that sounds like too much work for you, no worries. 
When it comes to choosing an online dispensary in Canada, you'll be pleased to know that Low Price Bud caters to your every cannabis need! 
If you're looking for the best place to buy premium 5 THCA diamonds, Low Price Bud is here to impress and delight you. 
Beyond offering the purest of cannabis diamonds, this Premium 5 THCA Diamonds review is also designed to help you find the best quality, cheap weed and value buds of all flavours and strains! 
With that said, kindly feast your eyes on the following curated selection of Premium 5 THCA diamonds from our online weed dispensary.
Buy Island Pink Kush Premium 5 THCA Diamonds Online Now

Developed in the presence of a terpene-rich solution, Island Pink Kush premium 5 THCA diamonds offer a most potent and pleasant high. 
Created from the Indica-dominant strain Island Pink Kush, these premium 5 THCA diamonds offer a decent flavour in addition to a soothing high. 
Regarded as a heavy hitter (similar to OG Kush) this strain produces dense, sticky buds that are coated in an abundance of trichomes. 
Thanks to the thick and resinous nature of this strain, it's widely used to create the most dazzling of THCA diamonds. 
When inhaling these Premium 5 THCA diamonds, you'll be met with hints of floral and diesel infusions with citrusy undertones. 
If you feel like being transported to an exotic island paradise – this offering is for you!

Once consumed, you can expect to be overcome with an influx of cerebral euphoria. 
As you succumb to a state of pure relaxation and ease, 27% average THC will have made its way through your system. 
If you're looking to get splendidly high or treat your nausea, insomnia, and depression, be sure to buy Island Kush Premium 5 THCA diamonds for only $20 per gram right now!
Order Durban Poison Premium 5 THCA Diamonds Online
Originally grown in the green mountains of Kwazulu Natal in South Africa, Durban Poison has since made its appearance on the global market. 
From the moment of being introduced to the world, Durban Poison has been loved for its effects and earthy flavours. 
Durban Poison features trichome-covered flowers which are used to make some of the purest THCA diamonds on the planet.
Are you looking for pure Sativa-dominant premium 5 THCA diamonds? 
In that case, you'll fall in love with this South African variety. Having proved beneficial for stoners and medical marijuana patients alike, Durban Poison offers generous THC levels of 24%. 
This strain hits with a strong, happy head high that leaves you feeling active and vibrant. 
Hailed as an effective treatment for a range of ailments including depression, anxiety and chronic pain, Durban Poison remains a popular choice among Sativa lovers. 
Ideal for making concentrates like THC diamonds, this strain is best used during the daytime, so be sure to order Durban Poison Premium 5 THCA diamonds in advance of your daily planning. 
Effect-wise, you can expect a boost of physical and cerebral energy all at once. Use this strain to get creative, clean the house or socialize with friends. 
Buy Mike Tyson Premium 5 THCA Diamonds Online 
Extremely rare and highly prized, this 100% pure Indica strain is thought to be a descendant of the classic OG Kush. 
Since its creation in 2011, stoners from all over the world have been raving about its heavy and desirable effects. 
You might want to note the following: Mike Tyson Premium 5 THCA diamonds will hit you like a slow truck – without leaving you in a useless narcotic state. 
In budding mode, Mike Tyson boasts pungent skunky aromas with sharp chemical diesel hints. 
In their Premium 5 THCA diamond form, you'll get to enjoy spicy and skunky notes on your tastebuds. 
Made from large and lumpy bright lime green nugs, Mike Tyson diamonds will blow your mind in the greatest way.
If required, you'll remain functional with these diamonds, albeit totally relaxed and pain-free. 
High THC levels of 27% make Mike Tyson perfect for winning the battle against chronic stress and insomnia.
If you'd like to experience the hard-hitting, yet blissful effects of this strain, buy Mike Tyson Premium 5 THCA diamonds from our online weed dispensary for only $20 per gram.
Buy Death Bubba Premium 5 THCA Diamonds Online
This Premium 5 THCA Diamonds Review wouldn't be complete without making mention of the Death Bubba diamond offering. 
Death Bubba is a popular Indica dominant variety, originally created by crossing the classic Bubba Kush with an unknown strain. 
When in flower mode, this strain boasts a 26-28% THC level along with nearly narcotic effects. 
Following the initial psychoactive experience, you can expect to be transported to your happy place of deep relaxation after taking a hit of these THC diamonds. 
Featuring fine hints of musk, earth and lemony pine, Death Bubba buds are covered in trichomes and hence popularly used in the making of Premium 5 THCA diamonds. 
If you'd like to immerse yourself in 99% of pure THC along with 1% of flavourful remnants – be sure to buy Death Bubba Premium 5 THCA Diamonds from our dispensary now! 
If you're a seasoned stoner, the effects of these diamonds will make you feel complete. If you're a newbie, we can only advise you to go small and slow to enjoy the most pleasurable high you can imagine. 
Either way, Death Bubba will make you feel at home in no time.
Premium 5 THCA Diamonds Review – Final Thoughts
This Premium 5 THCA diamonds review is here to lead you to greener pastures in the form of the purest THC you can get your hands on today. 
Offering THCA diamonds to the Canadian public at large, Low Price Bud exceeds our mission in providing convenient ways of buying weed online. 
When it comes to buying weed online in Canada, our online dispensary has you covered in all aspects. 
As for the next best thing in the cannabis world; diamond-infused weed pre-rolls might be making their way to our menu soon. 
Constantly innovating new and adventurous offerings, cannabis crafters are working around the clock to supply Low Price Bud with the best in the industry.
Diamonds THC is highly regarded in the Canadian cannabis community – and Low Price Bud is here to deliver effectively and exceed customer expectations. 
These little THCA gems can be mixed into an edible or drink, smoked, vaped or dabbed. 
As a very last note; the effects of THCA diamonds are intense, and are mostly recommended for seasoned stoners. 
We trust that this Premium THCA diamonds review will serve you extremely well.