Is Phoenix Tears THC the Holy Grail of Cannabis Therapy?
If you want to buy Phoenix Tears THC but you don't know much about this powerful cannabis oil, you have landed on the right page. 
Phoenix tears, commonly referred to as Rick Simpson Oil (RSO), is a monstrous cannabis oil that has gained popularity in recent years for its possible therapeutic benefits. 
The name says it all: Like the mythical bird that rises from its own ashes, you too will feel rejuvenated and healed when using Phoenix Tears oil. 
In this comprehensive article, we will explore the effects and possible recreational and medical benefits of Phoenix Tears THC. 
You will also learn where to buy Phoenix Tears in Canada that are effective, potent, and most importantly, safe. 
So, whether you are a patient seeking the best alternative therapy or just a curious stoner, this article will provide you with a detailed overview of this unique cannabis product. 
Keep reading for the rest.
What is Phoenix Tears?
If you have never used Phoenix Tears THC before, here is the full scoop for you. What is Phoenix Tears and why should you add them to your itinerary today? 
As mentioned in the intro, Rick Simpson Oil (RSO for short) or more popularly, Phoenix Tears, refers to a concentrated form of cannabis oil that is created by carefully extracting the medicinal compounds from the cannabis plant using a solvent, for instance, ethanol or butane. 
As a result, you get an oil that is thick, dark in colour, and extremely high in THC (or tetrahydrocannabinol), the psychoactive compound responsible for the "high" associated with weed use. 
Moreover, Phoenix Tears are rich in other cannabinoids like CBD (cannabidiol) and CBN (cannabinol).
Interestingly, the name "Phoenix Tears" was coined by a famous Canadian medical cannabis advocate, Rick Simpson, who claims to have healed his own skin cancer using this specific oil. 
As you know by now, the name of the oil comes from the idea that the substance has the power to heal and regenerate the patient's body, much like the mythical Phoenix bird that rises from its own ashes.
How can you use Phoenix Tears? It's very versatile. You can consume Phoenix Tears orally, add it to food or drinks, or apply it topically to your skin.
Many consumers who have tried Phoenix Tears in the past claim that it can help alleviate a wide range of symptoms and conditions, including acute and chronic pain, anxiety, tension, stress, depression, insomnia, and even cancer. 
What about the potency of Phoenix Tears THC? The exact potency can vary, depending on different factors such as the quality of the product and the reliability of your online dispensary or physical pot store. 
If you are looking for the most potent and longest-lasting Phoenix Tears in Canada, we recommend checking out Low Price Bud, the best online dispensary in Canada. 
Besides Phoenix Tears, you will also find the best value buds and other affordable dry herbs, concentrates, mushrooms, vapes, and more. Save money without skimping on quality. 
Buy high-quality, premium-grade cheap weed from Low Price Bud today.
With all of this in mind, on average, the Phoenix Tears THC is around 90 percent. Compared to most dry herbs that hover around 15 to 30 percent in THC, that's insane! 
Because of the potency, we always recommend purchasing products like Phoenix Tears from reputable sources. 
Look for an online weed dispensary with credibility and experience, such as Low Price Bud.
The Best Phoenix Tears in Canada to Buy From Our Dispensary
If you are ready to buy Phoenix Tears oil, we have got you covered. 
Here are the highest-rated and most effective products to purchase that are effective, long-lasting, and completely safe. 
You can buy these products from Low Price Bud, Canada's best dispensary. Check out these reviews.
1. Bonafide – 1000mg THC Phoenix Tears Syringe (1ml)
The Bonafide – 1000mg THC Phoenix Tears Syringe (1ml) proudly carries the title of the highest quality full-spectrum syringe available on the market. 
This product is curated for managing pain using Indica. 
Zero additives and unnecessary ingredients – this syringe only contains top-grade full-spectrum THC extract. Each container contains 10 servings, with 100mg of THC per serving. 
Use it to manage pain, reduce anxiety, chase away depression, and thrive in life. For only $24, this is a must-have. You may also want to learn more about the best syringes for distillates.
2. Forever Phoenix 600mg THC Phoenix Tears – Cinnamon Infused
The Forever Phoenix 600mg THC Phoenix Tears – Cinnamon Infused is a highly concentrated weed oil that tastes amazing and works wonders. 
With a total of 600mg of THC, it is a perfect way to treat a variety of ailments and diseases. 
If you are not a fan of the taste of Phoenix Tears, you will fall in love with this product! The spicy kick of cinnamon will make you feel addicted instantly. 
What makes this product special is that its created with organic 99 percent pure ethanol alcohol that successfully extracts and winterizes the oil – hence you get a cleaner and stronger medical-grade product. Buy some for a mere $30.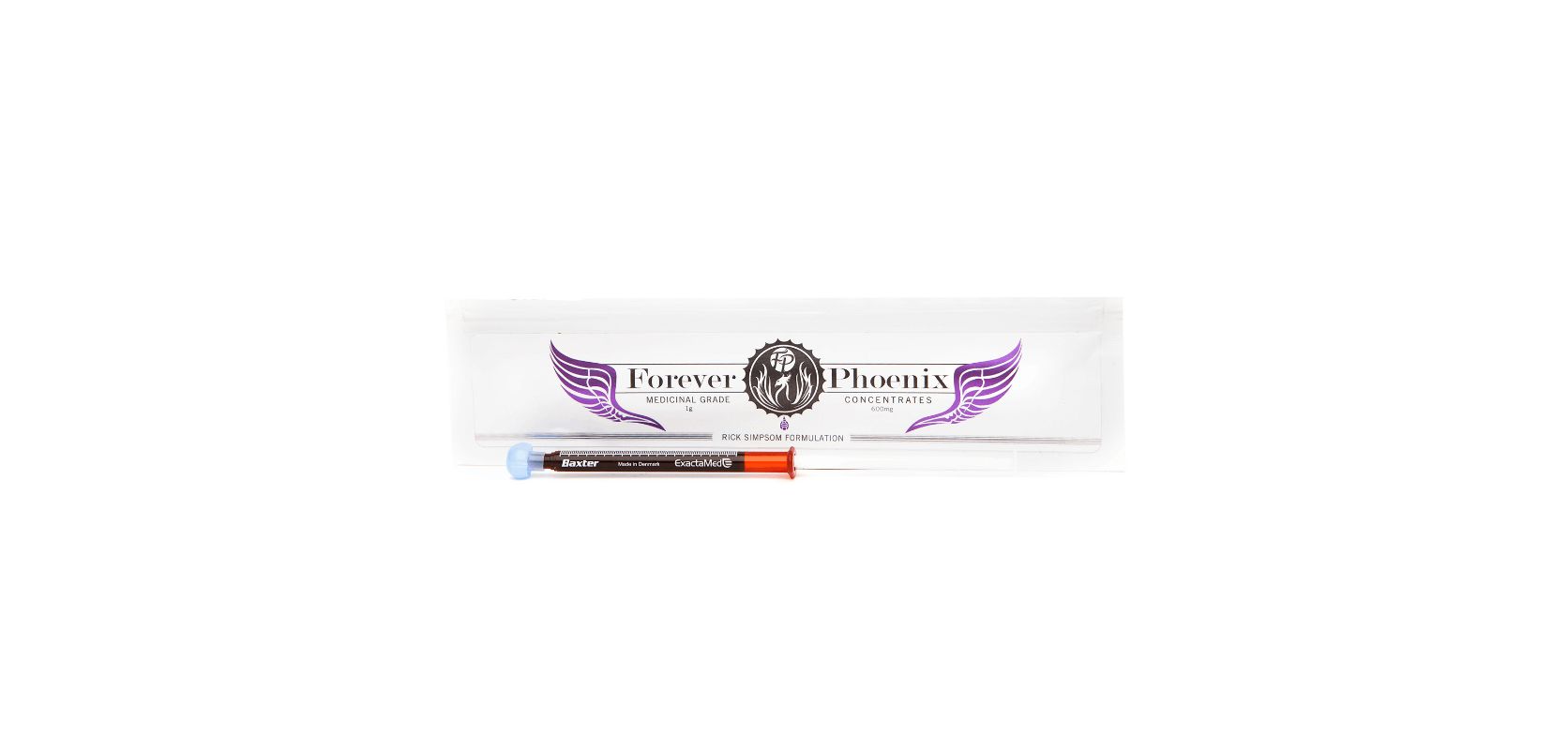 3. Forever Phoenix 600mg THC Phoenix Tears – Original Formulation
The Forever Phoenix 600mg THC Phoenix Tears – Original Formulation is for consumers who prefer to stick to the basics. 
The original formulation is a smooth, natural-tasting, and multi-beneficial weed oil with powerful effects for both recreational and medical users. 
The product is decarboxylated for easy and quick oral absorption. 
You will also be happy to find out that this formula contains only decarbed weed derived from Indica Kush – no harmful ingredients here! Purchase it for $30, only from Low Price Bud.
What are the Benefits of Phoenix Tears Oil?
While the research on the recreational and medical benefits of Phoenix Tears is still being researched, there are several important possible benefits of this powerful cannabis oil. 
Consider some of the following.
Recreational Benefits of Phoenix Tears THC:
The

high concentration of THC

in Phoenix Tears can result in a more intense and longer-lasting high compared to other forms of cannabis (like smoking or vaping dry herbs).

You can use Phoenix Tears to enhance the effects of other cannabis products, such as edibles or flowers.

Some stoners may prefer the discreet and fool-proof nature of enjoying Phoenix Tears compared to other forms of weed.
Medical Benefits of Phoenix Tears THC:
Phoenix tears may help relieve pain, reduce inflammation, and relieve life-debilitating symptoms associated with severe conditions such as cancer, epilepsy, and multiple sclerosis (MS).

The high concentration of cannabinoids in Phoenix Tears, such as THC and CBD, can make it a more effective treatment for certain medical conditions compared to other forms of weed.

You may prefer the ease of use and consistent dosing provided by Phoenix Tears compared to other forms of cannabis products.
How to Use Phoenix Tears THC?
One of the reasons why stoners love using Phoenix Tears is that they are easy and versatile!
How to use Phoenix Tears THC? Pick and choose your favourite consumption method and get high beyond belief.
Enjoy it orally

: The most common way to consume potent Phoenix Tears is take them orally. 
Namely, you can apply the oil directly under your tongue (this is called sublingual use) or mix it with food or drinks. 
Keep in mind that this consumption method may take longer to take effect, usually 30 minutes to one hour. On the bright side, the effects tend to last longer.
Go for capsules

: Some consumers might prefer taking Phoenix Tears in capsule form. One of the perks of capsules is that they make dosing more precise and convenient.

Use it topically

: You can also apply Phoenix Tears to your skin to help relieve pain, inflammation, and certain skin conditions. Just apply the oil directly to the affected area (alternatively, you may mix it with carrier oil, such as coconut oil or hemp oil).

When in doubt, inhale it

: Finally, you can also choose to vaporize or smoke Phoenix Tears by adding a tiny amount to a vaporizer or a quality smoking device. 
However, this method may not be the best option for everyone, as inhaling the oil may be harsh on the lungs. 
Where Can I Buy Phoenix Tears?
You can find Phoenix Tears THC at most better-equipped online dispensaries and some brick-or-mortar pot stores in Canada. Hands down, the best place for the highest-quality Phoenix Tears is Low Price Bud. 
At this online weed dispensary, you will discover the best and most effective Phoenix Tears oil that actually works. 
Most importantly, all products Low Price Bud offers are safe, long-lasting, and tested for quality and efficacy. 
Take care of your health and treat yourself with respect by choosing only trusted and reputable dispensaries.
Where can I buy weed online in Canada?
Purchase Phoenix Tears THC and other professional-grade budget buds at Low Price Bud. 
This dispensary also offers an extensive collection of rare and popular dry herbs, concentrates, delicious edibles (including baked goods and gummies), vapes, and much more. 
Buy weed online and save money today. Remember, you deserve only the best!