Mondays Aren't So Bad Afterall, New Drops!
Green Lantern AA $70.00/Ounce

Green Lantern is a sativa dominant hybrid (85% sativa/15% indica) strain created as a cross between the cult favorite Green Crack X White Rhino strains. This bud is well loved for its high that sends your head straight into space with psychoactive creative stimulation and a potent THC level that has been recorded as high as 23%. The onset is immediate – one second you'll be exhaling and the next you'll be hit with a soaring cerebral high that leaves you completely euphoric with a stimulated imagination. You'll find your mind pulling you deeper and deeper into philosophical introspection as it soars into space. This head high is so powerful that you'll hardly notice the indica body stone that sets in and anchors you to the real world. These body effects usher you into a deep sleep where your mind may continue to fly in your dreams. Because of these powerful effects, Green Lantern is perfect for treating insomnia, inflammation, depression, and migraines. This bud has long tapered arrowhead-shaped dense dark forest green nugs with fiery orange hairs and fine crystal trichomes. These nugs have a powerful peppery lemon aroma and a taste of sweet lemony pine that has an almost harsh peppery aftertaste.
Sativa Dominant Hybrid – 15% Indica / 85% Sativa
THC: 16% – 19%
Common Usage: ADD/ADHD, Chronic Pain, Depression, Fibromyalgia, Headaches, Insomnia, Loss of Appetite, Multiple Sclerosis, Stress
Effects: Body High, Creative, Energizing, Euphoria, Focus
Tom Ford is an indica dominant hybrid strain (80% indica/20% sativa) created through an unknown combination of indica dominant hybrid strains. Known for its insanely gorgeous appearance, Tom Ford has small rounded dense forest green nugs with pinkish and purple undertones, vibrant pink-orange hairs, and a coating of frosty clear white crystal trichomes. As you pull apart each frosty little nugget, aromas of sweet honey and sour citrus are released, complemented perfectly by touches of rich woods and earth. Tom Ford is just as delicious as the flavor, with long-lasting effects that are perfect for when you want to kick back and relax after a long and stressful day. Your mental state will immediately feel substantial relief as any negative or racing thoughts are edged out, replaced with pure blissful haze. This stoney effect will soon spread from mind to body, leaving you feeling to tally relaxed and pretty sedated as you start to fade away into peaceful sleep. With these effects and its high 23-25% average THC level, Tom Ford is often said to be perfect for treating those suffering from conditions such as chronic anxiety or stress, depression, chronic pain, insomnia, and chronic fatigue.
Indica Dominant Hybrid – 80% Indica / 20% Sativa
THC: 16% – 21%
Effects: Euphoria, Happy, Hungry, Relaxing, Sleepy
May Help Relieve: Anxiety, Appetite Loss, Chronic Pain, Depression, Insomnia
Jack Herer is easily one of the best-known strains in America. Originating in California, this sativa honors the memory of Jack Herer the man, a longtime local cannabis activist and medical marijuana user. It's not quite as strong as its popularity might suggest, but the high is heady and distinctive. Jack Herer has a unique loamy smell and taste with hints of pine and trees. The sativa high is happy, bubbly, and euphoric, spurring energy and creativity. Jack Herer is ideal for errands and other daytime activities. This strain is effective for patients with anxiety and migraines. Dry mouth and red eyes are common, along with occasional dizziness and paranoia. Jack Herer is popular throughout the United States, but, like many other strains, it's most popular in the West.
Sativa
THC: 23% – 27%
Effects: Body High, Cerebral, Creative, Euphoria, Happy
May Help Relieve: Arthritis, Chronic Pain, Depression, Fatigue, Headaches, Migraines, Nausea, Stress
Exotic Strain
Apple Fritter
Apple Fritter, also known as "Apple Fritters," is a rare evenly balanced hybrid strain (50% indica/50% sativa) created through crossing the classic Sour Apple X Animal Cookies strains. Best known for making the High Times' 2016 "World's Strongest Strains" List, this baby brings on a hard-hitting high and super delicious flavor that will have you begging for more after just one taste. This bud has a super sweet fruity apple flavor with a lightly cakey vanilla exhale that's just like a delicious fresh-baked apple fritter. The aroma is very similar, with an herbal effect to it, too. The Apple Fritter high starts almost as soon as you experience your first exhale, filling your mind with a rushing lift that pushes out any negative or racing thoughts almost immediately. As your cerebral state flies higher and higher, a tingly body high will wash over you, relaxing your aching muscles and leaving you feeling totally at ease with the world around you. In combination with its super high 26% – 29% average THC level, these effects give Apple Fritter an edge in treating those suffering from conditions such as insomnia, chronic pain, depression, mood swings and chronic stress. This bud has spade-shaped dark olive green nugs with deep purple undertones, vivid orange hairs and a coating of tiny white crystal trichomes.
Hybrid – 50% Indica / 50% Sativa
THC: 26% – 29%
Common Usage: Anxiety, Chronic Pain, Depression, Insomnia, Stress
Effects: Euphoria, Happy, Hungry, Relaxing, Tingly, Uplifting
---
New Item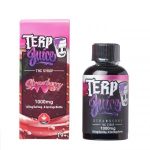 Terp Juice
$40.00
Shop now
Zombie Bars 250mg THC
$15.00
Shop now
$70.00/Ounce
Shop now
---